There is no one "best" area in Saint Lucia to stay. Each part of the island has its own unique charms and attractions that will appeal to different people. Some areas are better for those who want to be close to all the action, while others offer a more relaxed and laid-back atmosphere.
How long does it take to travel to other areas of Saint Lucia?
Thankfully, location is less meaningful than it appears as most destinations are usually within an hours drive of East Winds Resort! You can even travel by boat or helicopter and be there in half the time!
Here is a brief overview of the main regions on Saint Lucia, along with some reasons why you might want to consider making the trip!
Northside of Saint Lucia
The north side of Saint Lucia is great for those seeking to be close to all of the action. You'll find restaurants, bars and nightclubs strewn across the towns with plenty of activities to keep you busy.
You can go swimming, snorkelling and diving all around the coast – located in areas such as: Anse la Raye and Marigot Bay. If you want to stay on land, you're not far from dozens of scenic hikes within the Saint Lucian rainforests.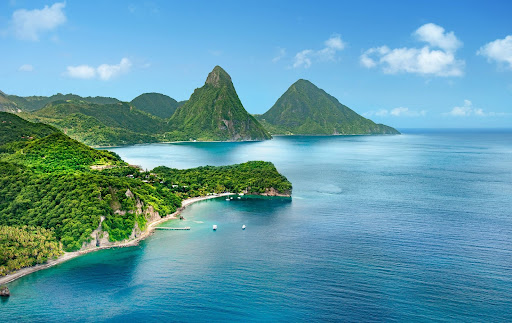 Castries Outdoor Market
Don't hesitate to make your way to the bustling town of Castries to attend the Castries Market. An outdoor marketplace with traditions, culture and lifestyle that began in the early 1890s. You'll find the mix of lively locals and traditional Saint Lucia groceries: from fruit, to meat and vegetables. Grab some souvenirs for your friends and families as you enjoy the local staples and ambience!
Pigeon Island National Park
If exploration is your goal, consider visiting Pigeon Island National Park – located at the very tip of the north of Saint Lucia. These old ruins were home to an old pirate's hideout before becoming transformed into a military fort. In 1972 it subsequently earned its status as a National Landmark in Saint Lucia. Home to beautiful sandy beaches – this tourist destination also has plenty of shops for visitors to enjoy the splendour of its old magnificence.
Southside of Saint Lucia
The southside of Saint Lucia offers both a mix of indulgent luxury escape and pampering, with romantic escapades. It is friendly to both nature lovers, and those who need the private excursions off the resort.
Similar to the north side of Saint Lucia, you are free to explore the many beaches and coves along the coastline – that includes snorkelling, swimming, diving and of course, seaside boating excursions.
Soufriere and Sulphur Springs
Some of the activities you can find in the south side of Saint Lucia include:-visiting the charming town of Soufriere with its world-famous sulphur springs. Read more about these world-famous sulphur springs with our [Everything you need to know about Sulphur Springs blog post].
Hiking the Gros and Petit Pitons
The southern end of St. Lucia is home to the Gros and Petit Pitons that are a marvel to see.
Hiking up to the Gros Piton or Petit Piton mountains along the coastline-taking a boat trip to see the stunning Pitons from the water.
It's hard to miss these UNESCO World Heritage sites from anywhere on Saint Lucia. The pitons are a symbol of the country – with two volcanic spires piercing the Saint Lucian sky and standing atop the Caribbean Sea. Marvel at these world wonders from anywhere on the island, or make the trip and see them up close!
Diamond Falls Botanical Garden
Looking to be one with nature? Take in the caribbean tropics by wandering through Diamond Falls Botanical Gardens & Minerals Baths. You'll find green and luscious landscapes filled with colourful vegetation native to the caribbean island.
Experience a world of wonder as you find yourself at the foot of a waterfall, soaking in a hot mineral spring amidst flora and fauna. You'll also find native species such as birds and insects to experience nature at it's closest not found anywhere else in the world.
Where is East Winds Resort located in Saint Lucia?
East Winds Resort is located on the north east side of Saint Lucia.